Las Villas del Norte Newsletter Volume 3 Issue 1 is out and ready to read. If you re a member of Las Villas del Norte you can get your free copy here.
It is the first newsletter for the year 2017, make sure to get your own copy by downloading it to your digital archives.
Also, make sure to visit our Newsletter Archives to download more.
Las Villas del Norte Newsletter Volume 3 Issue 1 - March 2017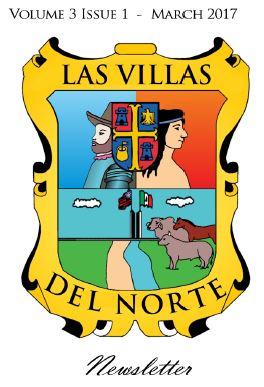 Table of Contents for This Newsletter:
From the Editor Pg. 5
Our Newest Pobladores Pg. 6
Our Meetings Pg. 15
Calendar of Future and Past Presentations Pg. 16
Our Last Three Presentations Pg. 18
In the Works Pg. 20
What's New on Las Villas Del Norte Website Pg. 21
Early Settlers of Camargo: Jose Matias Longoria and Maria Margarita Hinojosa Pg. 22
Recap of Presentation Backing up and Protecting Your Genealogical Data Pg. 24
Early Settlers of Mier: Jose Cristobal Ramirez and Maria Matiana de Hinojosa Pg. 25
Early Settlers of Revilla: Francisco Javier Pena and Anna Maria Antonia de Nagas Pg. 28
Recap of Presentation "Primeras Familias Pobladoras del Sur de Texas y Norte Tamaulipas" Pg. 30
Early Settlers of Camargo: Lucas Gonzalez and Ana Maria de la Garza Pg. 32
Early Settlers of Mier: Jose Bernardo Vela and Maria Josefa Pena Pg. 33
Recap of Presentation "Artesanos y constructores de la Arquitectura Norestense" Pg. 35