Las Villas del Norte Newsletter Volume 2 Issue 2 is out and ready to read. If you re a member of Las Villas del Norte you can get your free copy here.
It is the second newsletter for the year 2016, make sure to get your own copy by downloading it to your digital archives.
Also, make sure to visit our Newsletter Archives to download more.
Las Villas del Norte Newsletter Volume 2 Issue 2 - June 2016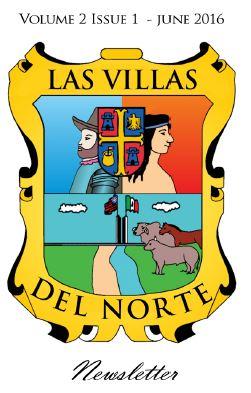 Table of Contents for This Newsletter:
New Members of Las Villas del Norte Pg. 2
Questions for our Members Pg. 3
Photos of Members of Las Villas del Norte Pg. 8
Our Meetings Pg. 9
Calendar of Future and Past Presentations Pg. 10
Past Presentations for 2015 Pg. 11
Our Last Three Presentations Pg. 12
In The Works Pg. 13
What's New on Las Villas del Norte Website Pg. 13
From Las Villas del Norte Blog Pg. 15
Online Index to the Historical Archives of Monterrey and Video How to Use Them Pg. 15
Recap of Presentation Soy de Duval Pg. 15
The announcement of the AncestryDNA Kit Winner Pg. 17
Early Settlers of Revilla: Bartolome de Lizarraras y Cuellar and Maria
Gregoria Martinez Pg. 17
Researching the Dr. Clotilde P. Garcia Papers at TAMUCC Pg. 19
Recap of Overview of FamilySearch.org and Search Strategies Pg. 20
Matrimonios de Personas con los Apellidos Cano y Cantu en Reynosa
Tamaulipas 1751 – 1950 Pg. 21
The Historical Legacy of Juan Bautista Chapa Pg. 22
The Trujillo Priests 1800's in Coahuila Mexico Pg. 22
Recap of Presentation The Salinas and Saldaña Family Tree Website Pg. 23