Las Villas del Norte Newsletter Volume 2 Issue 1 is out and ready to read. If you re a member of Las Villas del Norte you can get your free copy here.
It is the first newsletter for the year 2016, make sure to get your own copy by downloading it to your digital archives.
Also, make sure to visit our Newsletter Archives to download more.
Las Villas del Norte Newsletter Volume 2 Issue 1 - March 2016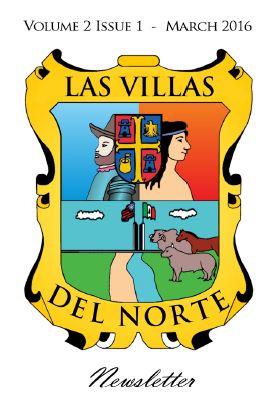 Table of Contents for This Newsletter:
New Members of Las Villas del Norte Pg. 2
Questions for our Members Pg. 3
Our Meetings Pg. 11
Calendar of Future and Past Presentations Pg. 12
Past Presentations for 2015 Pg. 13
Our Last Three Presentations Pg. 14
In The Works Pg. 15
What's New on Las Villas del Norte Website Pg. 15
From Las Villas del Norte Blog Pg. 16
Recap of Presentation "Jose Bernardo Gutierrez de Lara Uribe, the First President of Texas Pg. 16
The Las Villas del Norte Book Collection Pg. 17
Early Settlers of Laredo: Tomas Tadeo Sanchez and Catharina de Uribe Pg. 19
Recap of Presentation "Genealogical Resources for Mier Tamaulipas, Mexico" Pg. 20
Free Historical eBook Repository for Nuevo Leon Pg. 21
The Names of Men in Alonso de Leon's First Expedition Pg. 22
How to Easily Find Ancestors in the Civil and Protocolos Sections of the Monterrey Historical Archives Pg. 23
Getting Started in Your Genealogy Pg. 24
How to Batch Download Images From FamilySearch Pg. 24