Presentation Announcement "Finding Aids: The Road Map to Any Manuscript Collection"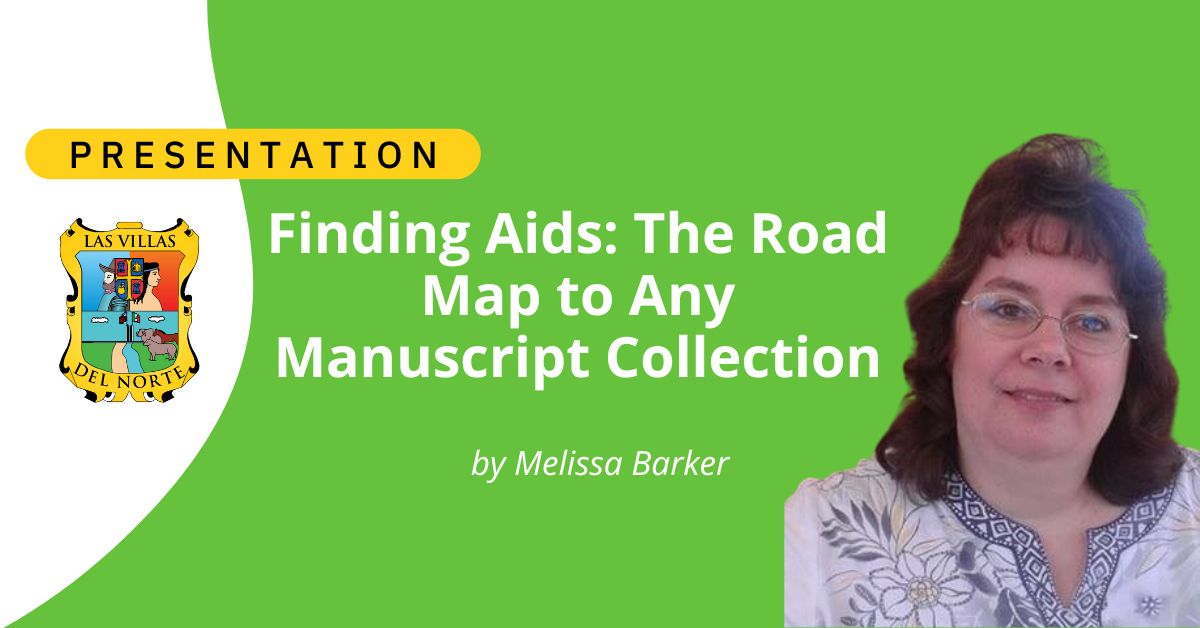 Join us on September 18, 2023, for Melissa Barker's presentation "Finding Aids: The Road Map to Any Manuscript Collection". The presentation will be uploaded to our website at 2:00 PM CDT. If you are a member of Las Villas del Norte just log in on that day and time to view the presentation. Not a member yet? You can join here: https://lasvillasdelnorte.com/become-a-member/
More About Melissa Barker
Melissa Barker is a Certified Archives Manager and Professional Genealogist. She is affectionately known as The Archive Lady. She lectures, teaches, and writes about researching in archives in the U.S. and Canada. She has been researching her own family history for 32 years.
Presentation Information
Title: Finding Aids: The Road Map to Any Manuscript Collection
Summary: Genealogists use all kinds of tools to help them with their genealogy research. One of the best tools to understand and use when working with Manuscript Collections are Finding Aids. Archivists develop Finding Aids to navigate through Manuscript Collections.
How to Watch This Presentation
If you are a member of Las Villas del Norte just log in on Monday September 18, 2023, at 2:00 PM CDT. If you miss it then just log in anytime after to watch the recorded presentation at your convenience.
Not a Member Yet?
Don't worry, join Las Villas del Norte today and you can watch this presentation online after the specified date and time. You will also get our eBook "Las Villas del Norte, The 1757 Censuses of Laredo, Dolores, Revilla, Mier, Camargo, and Reynosa", the e-version of our current Journal, plus a ton of other great resources to help you in your genealogy.