Presentation Announcement "Tips for Beginners in Mexican Genealogy: Civil Registers and Parish Records"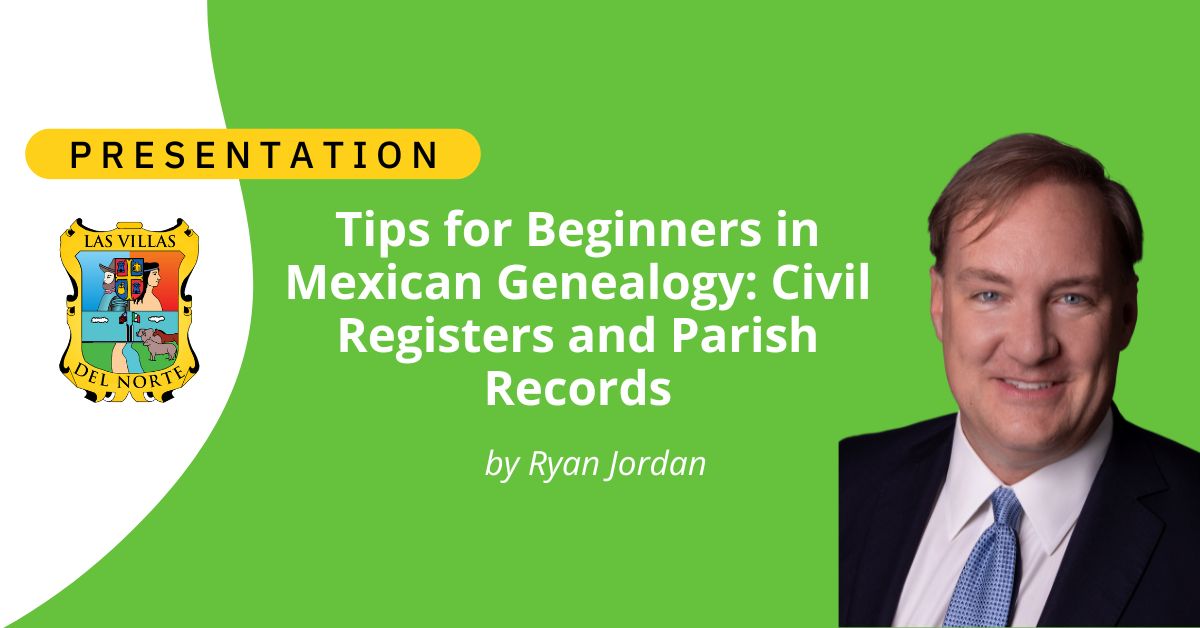 Join us on September 4, 2023, for Ryan Jordan's presentation "Tips for Beginners in Mexican Genealogy: Civil Registers and Parish Records". The presentation will be uploaded to our website at 2:00 PM CDT. If you are a member of Las Villas del Norte just log in on that day and time to view the presentation. Not a member yet? You can join here: https://lasvillasdelnorte.com/become-a-member/
More About Ryan Jordan
I currently teach U.S. history online at National University in La Jolla, CA and have previously taught at Lafayette College, UC San Diego, and the University of San Diego. I am currently completing the accreditation program with ICAP Gen in the Mexico Region.
Presentation Information
Title: Tips for Beginners in Mexican Genealogy: Civil Registers and Parish Records
Summary: This presentation will provide an overview of seven major record types in Mexico Region: Civil Birth, Marriage and Death Records and Parish Baptism, Marriage,Census and Burial Records. The presentation will touch on variations of these records along with paleography tips. The targeted audience is beginning genealogists with limited familiarity in Mexico.
How to Watch This Presentation
If you are a member of Las Villas del Norte just log in on Monday September 4, 2023, at 2:00 PM CDT. If you miss it then just log in anytime after to watch the recorded presentation at your convenience.
Not a Member Yet?
Don't worry, join Las Villas del Norte today and you can watch this presentation online after the specified date and time. You will also get our eBook "Las Villas del Norte, The 1757 Censuses of Laredo, Dolores, Revilla, Mier, Camargo, and Reynosa", the e-version of our current Journal, plus a ton of other great resources to help you in your genealogy.