Presentation Announcement "Indexes Are The Key to Unlocking The Records"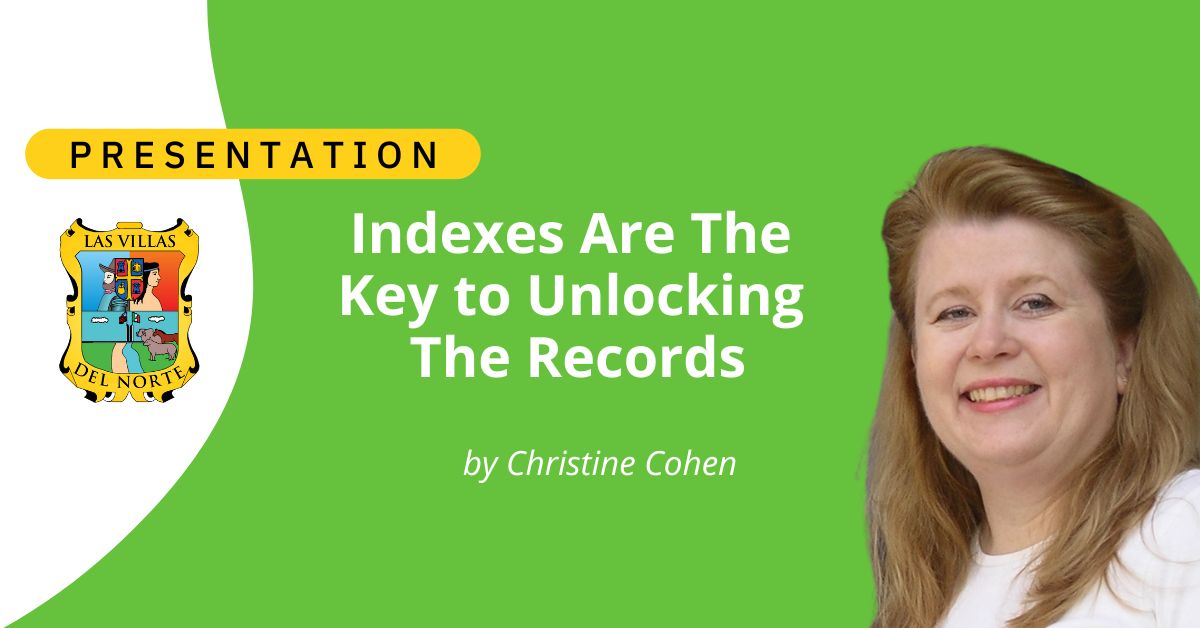 Join us on July 3, 2023, for Christine Cohen's presentation "Indexes Are The Key to Unlocking The Records". The presentation will be uploaded to our website at 2:00 PM CDT. If you are a member of Las Villas del Norte just log in on that day and time to view the presentation. Not a member yet? You can join here: https://lasvillasdelnorte.com/become-a-member/
More About Christine Cohen
Christine Cohen is a long time member of the Whittier Area Genealogical Society (WAGS), and has served in many capacities, including President. In addition to WAGS, she is also a member of the El Redondo Chapter of the DAR, the Society of Daughters of Holland Dames and Association of Professional Genealogists.
Presentation Information
Title: Indexes Are The Key to Unlocking The Records
Summary: Indexes can make Probate & Land research so much easier, but what if you are lost on how to use the index? Indexing systems are so complex they require guides, keys, or tables to decipher. Let's review Burr Record, Campbell, Cott System, Liber, Page Key, Russell, Split and Vowel Indexes.
How to Watch This Presentation
If you are a member of Las Villas del Norte just log in on Monday July 3, 2023, at 2:00 PM CDT. If you miss it then just log in anytime after to watch the recorded presentation at your convenience.
Not a Member Yet?
Don't worry, join Las Villas del Norte today and you can watch this presentation online after the specified date and time. You will also get our eBook "Las Villas del Norte, The 1757 Censuses of Laredo, Dolores, Revilla, Mier, Camargo, and Reynosa", the e-version of our current Journal, plus a ton of other great resources to help you in your genealogy.