Presentation Announcement "Genealogical Evidence"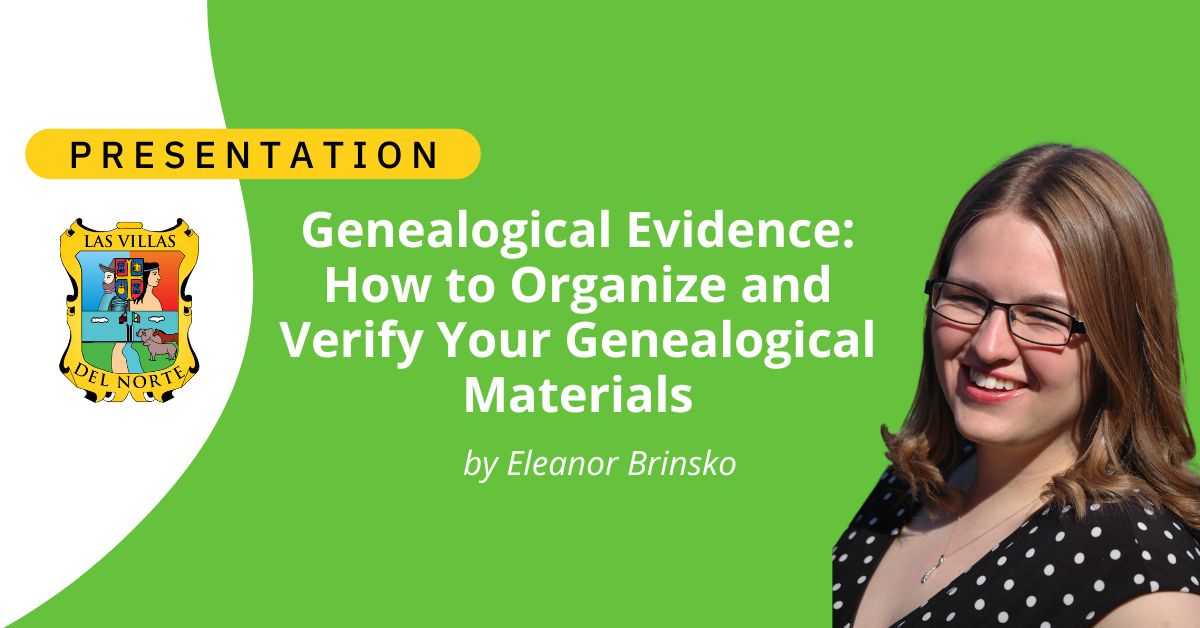 Join us on June 19, 2023, for Eleanor Brinsko's presentation "Genealogical Evidence: How to Organize and Verify Your Genealogical Materials". The presentation will be uploaded to our website at 2:00 PM CDT. If you are a member of Las Villas del Norte just log in on that day and time to view the presentation. Not a member yet? You can join here: https://lasvillasdelnorte.com/become-a-member/
More About Eleanor Brinsko
Eleanor Brinsko is a professional genealogist who does European-American genealogy and specializes in Scandinavian-American genealogy by looking at genealogical and social trends on both sides of the Atlantic. Eleanor has given lectures for the Wisconsin Historical Society and public libraries, genealogical societies, and family reunions.
Presentation Information
Title: Genealogical Evidence: How to Organize and Verify Your Genealogical Materials
Summary: This presentation will guide the audience through organizing the evidence to make the information accessible, learn how to verify the credibility of each piece of evidence, investigate how to ascertain whether the resource is credible, how to resolve the conflict between two sources to determine which source is correct.
How to Watch This Presentation
If you are a member of Las Villas del Norte just log in on Monday June 19, 2023, at 2:00 PM CDT. If you miss it then just log in anytime after to watch the recorded presentation at your convenience.
Not a Member Yet?
Don't worry, join Las Villas del Norte today and you can watch this presentation online after the specified date and time. You will also get our eBook "Las Villas del Norte, The 1757 Censuses of Laredo, Dolores, Revilla, Mier, Camargo, and Reynosa", the e-version of our current Journal, plus a ton of other great resources to help you in your genealogy.