Presentation "Ancestors in Story and Time, a Saga"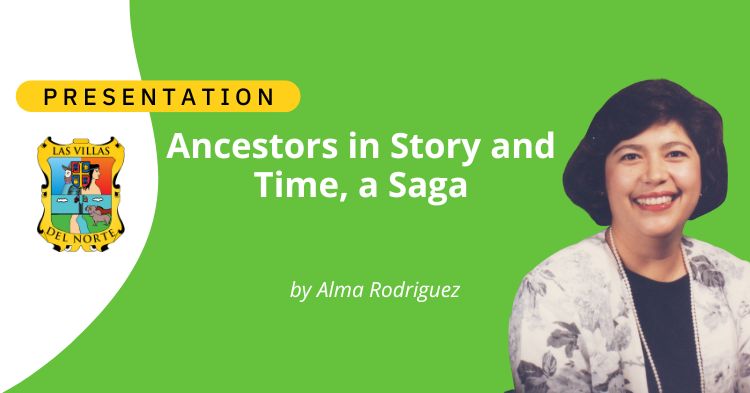 Join us January 2, 2023 for Alma Rodriguez Presentation "Ancestors in Story and Time, a Saga". The presentation will be uploaded to our website at 2:00 PM CDT. If you are a member of Las Villas del Norte just log in on that day and time to view the presentation. Not a member yet? You can join here: https://lasvillasdelnorte.com/become-a-member/
More About Alma Rodriguez
Alma P. Rodriguez is an educator, speaker and author. She was born in San Antonio, then was raised in Minnesota until age 7. Thereafter, she returned to San Antonio and was educated at David Crockett Elementary and Thomas Jefferson High [both architectural wonders]. Alma received her B.A. in Early Childhood Education and Bilingual Education from UTSA. Now retired, she continues to write the saga of her Ancestors, "Los Marmolejo's", research her genealogy, and transcribe Spanish citations.
Presentation Information
Title: Ancestors in Story and Time, a Saga
Summary: After researching my ancestors since 1987, I had compiled a collection of: oral histories told me by my maternal Grandmother and memories of my maternal great grandmother, and maternal grandparents, genealogical citations, and photos. These became foundation for a saga about my ancestors titled: "Los Marmolejo's". I share the process of presenting my predecessors in history and story format. I do this as a passionate benefactor of great ancestors- and as a study of the origin of the Mexican and Mexican American people.
How to Watch This Presentation
If you are a member of Las Villas del Norte just log in on Monday January 2, 2023 at 2:00 PM CDT. If you miss it then just log in anytime after to watch the recorded presentation at your convenience.
Not a Member Yet?
Don't worry, join Las Villas del Norte today and you can watch this presentation online after the specified date and time. You will also get our eBook "Las Villas del Norte, The 1757 Censuses of Laredo, Dolores, Revilla, Mier, Camargo, and Reynosa", the e-version of our current Journal, plus a ton of other great resources to help you in your genealogy.