Presentation "Online Resources for Mexican Genealogy"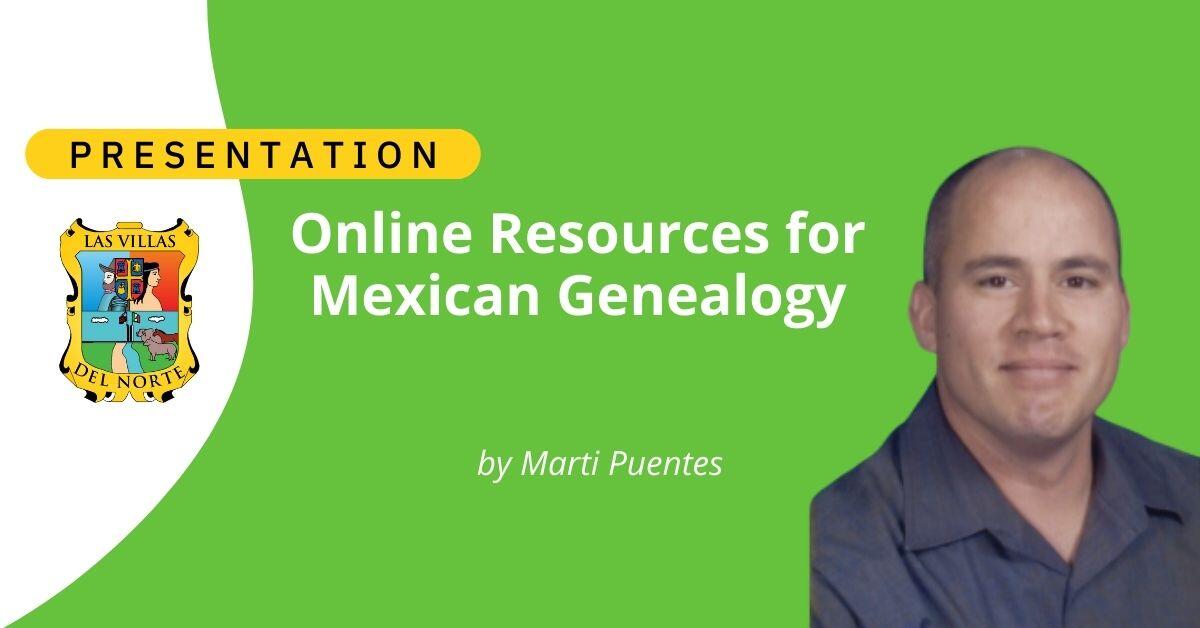 Join us July 10, 2022 for Marti Puentes presentation "Online Resources for Mexican Genealogy". The presentation will be uploaded to our website at 2:00 PM CDT. If you are a member of Las Villas del Norte just log in on that day and time to view the presentation. Not a member yet? You can join here: https://lasvillasdelnorte.com/become-a-member/
More About Marti Puentes
Marty Puentes was born and raised in California. He attended to college in Hawaii and currently resides in the Sacramento, California area. He is married with two beautiful daughters. He has been a middle-school teacher for over 18 years and enjoys reading, cooking, gardening and genealogy.
Presentation Information
Title: Online Resources for Mexican Genealogy
Summary: Tracing your relatives' entry point by using documents available here in the US will allow us to pinpoint what town they might have come from. Once in Mexico I will show you how to access vital documents like church and civil records to find your ancestors.
How to Watch This Presentation
If you are a member of Las Villas del Norte just log in on Sunday July 10, 2022 at 2:00 PM CDT. If you miss it then just log in anytime after to watch the recorded presentation at your convenience.
Not a Member Yet?
Don't worry, join Las Villas del Norte today and you can watch this presentation online after the specified date and time. You will also get our eBook "Las Villas del Norte, The 1757 Censuses of Laredo, Dolores, Revilla, Mier, Camargo, and Reynosa", the e-version of our current Journal, plus a ton of other great resources to help you in your genealogy.