Presentation "Women in Colonial Spain"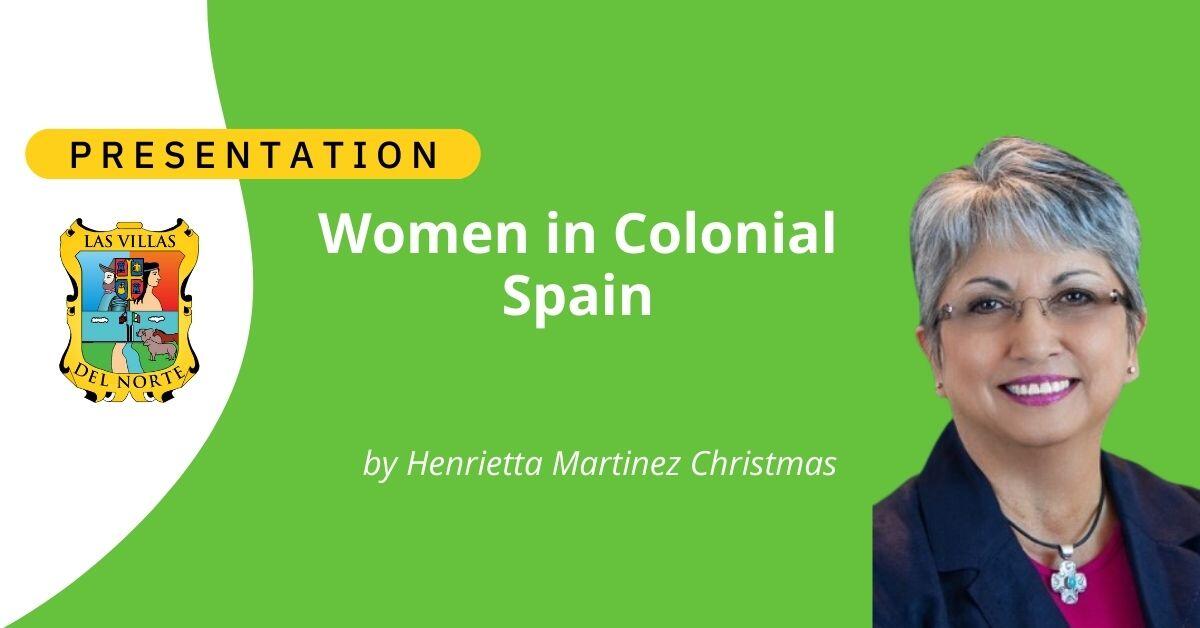 Join us May 8, 2022 for Henrietta Martinez Christmas presentation "Women in Colonial Spain". The presentation will be uploaded to our website at 2:00 PM CDT. If you are a member of Las Villas del Norte just log in on that day and time to view the presentation. Not a member yet? You can join here: https://lasvillasdelnorte.com/become-a-member/
More About Henrietta Martinez Christmas
Henrietta M. Christmas, a well-known and respected genealogical speaker has given presentations on topics related to Hispanic/Southwestern research. Engagements include keynote - New Mexico Genealogical Society, Santa Fe Trail Association, featured at annual conferences: Texas Genealogical Society, DAR and BIA-International Conference, Legacy Family Tree webinars and an instructor at SLIG.
Presentation Information
Title: Women in Colonial Spain
Summary: Women in colonial Spain retained their identities, names and rights to their involvement in land deals, purchase homes, trade for goods and even fulfill their dying wishes. Learn how to research Women using many types of records and develop a better understanding of their roles in Spanish Colonial Society.
How to Watch This Presentation
If you are a member of Las Villas del Norte just log in on Sunday May 8, 2022 at 2:00 PM CDT. If you miss it then just log in anytime after to watch the recorded presentation at your convenience.
Not a Member Yet?
Don't worry, join Las Villas del Norte today and you can watch this presentation online after the specified date and time. You will also get our eBook "Las Villas del Norte, The 1757 Censuses of Laredo, Dolores, Revilla, Mier, Camargo, and Reynosa", the e-version of our current Journal, plus a ton of other great resources to help you in your genealogy.