Francisco Angel de la Garza and Maria Cayetana Pena Six Generations of Descendants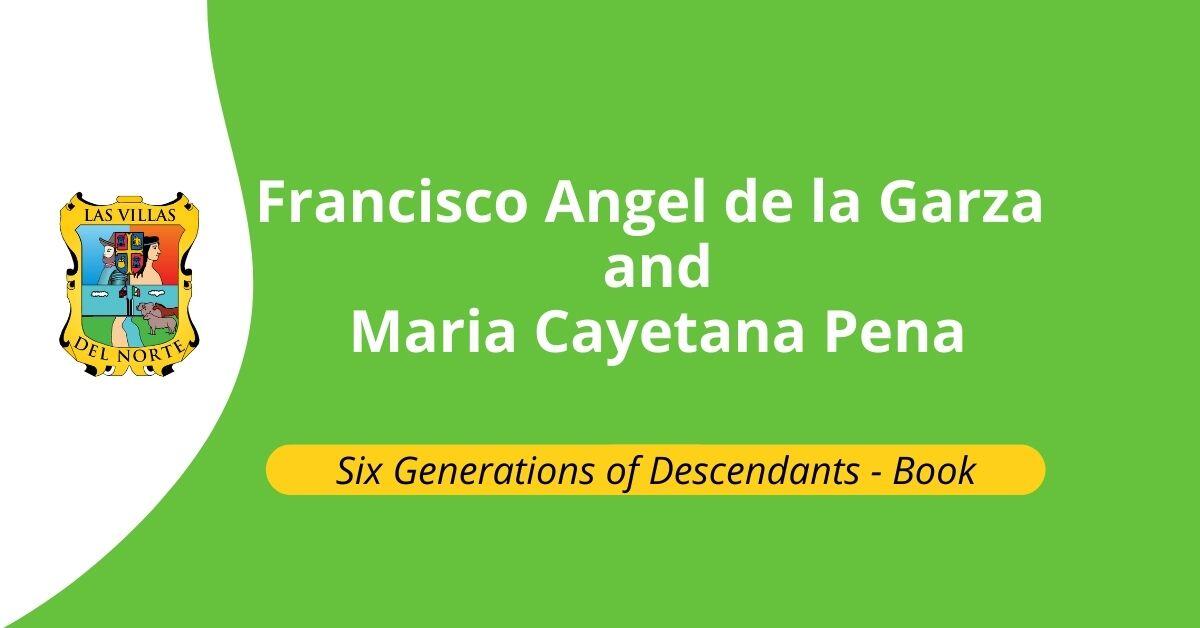 This 430-page book contains six generations of the descendants of Francisco Angel de la Garza and Maria Cayetana Peña. In the 1750s they were among the settling families of Camargo and Mier, Tamaulipas Mexico. Their descendants can be found all over Nuevo Leon, Tamaulipas, Texas, and beyond. This book contains genealogical information from the 1750s through the 1950s.

In the 1750 Census of Camargo Francisco Angel de la Garza is listed as Francisco Vela de Severa and he was 17 years old. He was listed as if he was the son of Joseph Vela who was the second husband of Felipa de Cervera, Francisco's mother. His father was Francisco Javier de la Garza who married Felipa de Cervera in Cadereyta on February 9, 1734. It is very likely that Francisco Angel was born after that date and it is very possible that he was also born there.

Francisco Angel married Maria Cayetana Peña on or after December 6, 1757 either in Mier or Cerralvo since on that date, according to Guillermo Garmendia Leal's research, they had a marriage investigation done or an actual marriage. I have since added this date as their church marriage date for the purposes of this book. Please note that to date I have not been able to find the record that Mr. Leal cites on his research. The parents of Maria Cayetana are Jose Sebastian Aparicio Peña and Maria Rosa Garcia. She was born in about 1743 in Cerralvo. We get her birth year from the 1789 church padrones of Mier giving her age as 46 years old.

Francisco Angel and Maria Cayetana received Porcion 14 in the jurisdiction of Mier thus changing him from that of Camargo. It is here that they establish a ranch called San Andres del Arcabuz, nowadays el Arcabuz, Tamaulipas, Mexico.

Francisco Angel died/buried on February 7, 1811 in Mier and Maria Cayetana on July 13, 1824 also in Mier. Their children were born, baptized, and married towns of Cerralvo, Mier, and Camargo.

This book has three sections. On the first section you will find six generations of descendants for Francisco Angel de la Garza and Maria Cayetana Peña. The second section contains four generations of ancestors for Francisco Angel. The third and final section contains four generations of ancestors for Maria Cayetana.

This book is an attempt to document the descendants of Francisco Angel de la Garza and Maria Cayetana Peña and is by far a complete work. I hope that as I continue to gather and correct information I get the chance to publish a second edition sometime in the future that contains more descendants. Research is a never ending endeavor.

Also if you are a descendant of Francisco Angel de la Garza and Maria Cayetana Peña and would like your family lines to appear in future editions please email me the family branches linking you to them to [email protected] so that I may research them and add them to my database.

I truly hope that you find this book useful in your research. Also keep in mind that this book is just a tool, it is still your responsibility to find copies of records and verify my work. In this, I have attempted to included citations for every fact listed in this book so that you may know where my information came from and for you to find records faster.
Francisco Angel de la Garza and Maria Cayetana Pena Six Generations of Descendants Book Cover
* You must be a member of Las Villas del Norte to be able to read this book online. Not a member become one here: Join LVDN
Table of Contents
Introduction i

Francisco Angel de la Garza and Maria Cayetana Pena: Six Generations of Descendants Pg. 1

Ancestors of Francisco Angel de la Garza: Four Generations Pg. 365

Ancestors of Maria Cayetana Peña: Four Generations Pg. 375

Index of Individuals Pg. 388
For More Great Books