Presentation "Did Your Abuelita…?"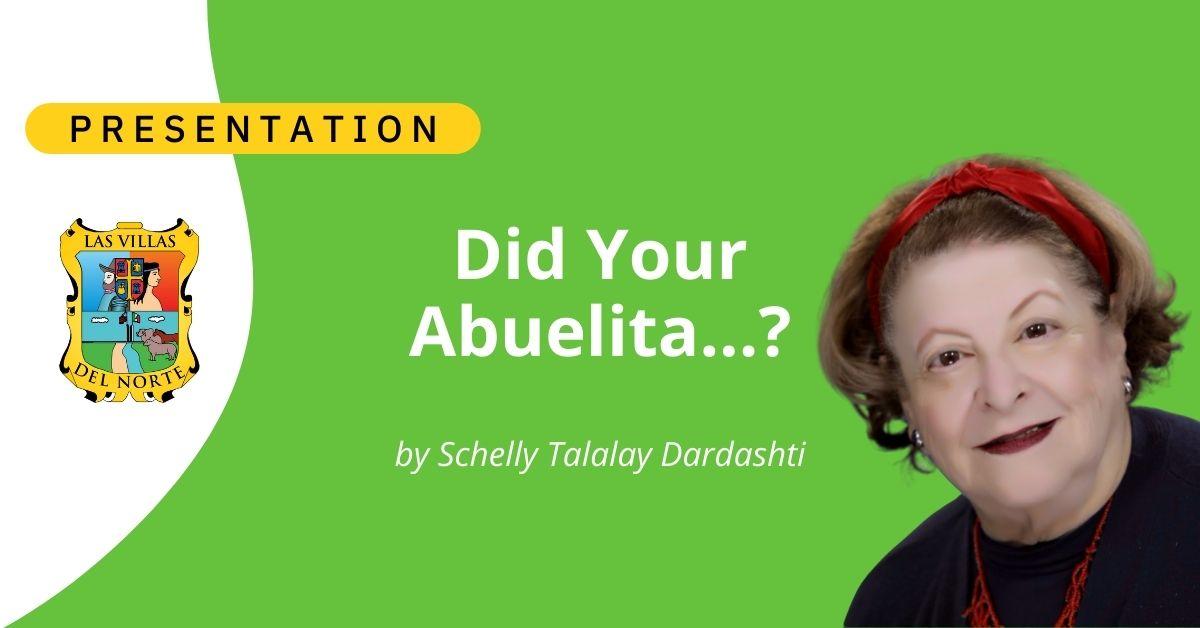 Join us April 25, 2021 for Schelly Talalay Dardashti's presentation "Why do the last names change?". Her presentation will be available at 2:00 PM CST on our website. If you are a member of Las Villas del Norte just log in to our website and either go to our calendar to get the link or our presentations page. Not a member yet? You can join here: https://lasvillasdelnorte.com/become-a-member/
More About Schelly Talalay Dardashti
Schelly Talalay Dardashti is a journalist and genealogist, an award-winning pioneer Jewish genealogy columnist/blogger; founder, Tracing the Tribe – Jewish Genealogy on Facebook (35,500 members from 101 countries); founding member, Centro Sefarad New Mexico; and the US Genealogy Advisor for MyHeritage. She is involved in many DNA projects.
Presentation Information
Title: Did Your Abuelita...?
Summary: Social and food traditions are the last to disappear in ethnic populations. Topics covered will demonstrate what traditions – life-cycle, food and more - are still observed in many Hispanic families of Sephardic ancestry – whether that heritage is known, has been lost in history, or is simply denied.
How to Watch This Presentation
If you are a member of Las Villas del Norte just log in Sunday April 25, 2021 at or after 2:00 PM CST to enjoy this presentation at your convenience.
Not a Member Yet?
Don't worry, join Las Villas del Norte today and you can watch this presentation online on or after April 25 2021. You will also get our eBook "Las Villas del Norte, The 1757 Censuses of Laredo, Dolores, Revilla, Mier, Camargo, and Reynosa", the e-version of our current Journal, plus a ton of other great resources to help you in your genealogy.