Presentation "Sephardic Research and Resources"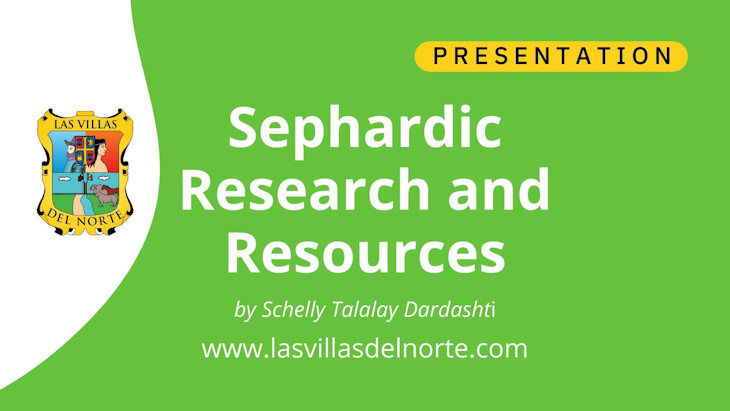 If you are a member of Las Villas del Norte make sure to join us November 8, 2020 for Shelly's presentation "Sephardi Research and Resources". The Zoom presentation will be at 2:00 PM CST, look for your invitation in your email inbox or log in to our website to get the link. Not a member yet? You can join here: https://lasvillasdelnorte.com/become-a-member/
More About Schelly Talalay Dardashti
Dardashti is a journalist and genealogist, an award-winning pioneer Jewish genealogy columnist/blogger; founder, Tracing the Tribe – Jewish Genealogy on Facebook (35,500 members from 101 countries); founding member, Centro Sefarad New Mexico; and the US Genealogy Advisor for MyHeritage. She is involved in many DNA projects.
Presentation Information
Title: Sephardic Research and Resources
Summary: Sephardic genealogy has seen a proliferation of websites, books, and databases relevant to Jews exiled from Iberia in the 15th century. Topics covered include geography, traditions, history, immigration, challenges, languages, online and archival resources, and the newest resources. Learn how Hispanic research intersects with Jewish genealogy.
How to Watch This Presentation
If you are a member of Las Villas del Norte look for your invitation on your inbox to join us via Zoom on Sunday November 8, 2020 at 2:00 PM CST. If you miss it then just log in anytime after November 9, 2020 to watch the recorded presentation.
Not a Member Yet?
Don't worry, join Las Villas del Norte today and you can watch this presentation. You will also get our eBook "Las Villas del Norte, The 1757 Censuses of Laredo, Dolores, Revilla, Mier, Camargo, and Reynosa", the e-version of our current Journal, plus a ton of other great resources to help you in your genealogy.