Presentation Recap "Writing History With Genealogy"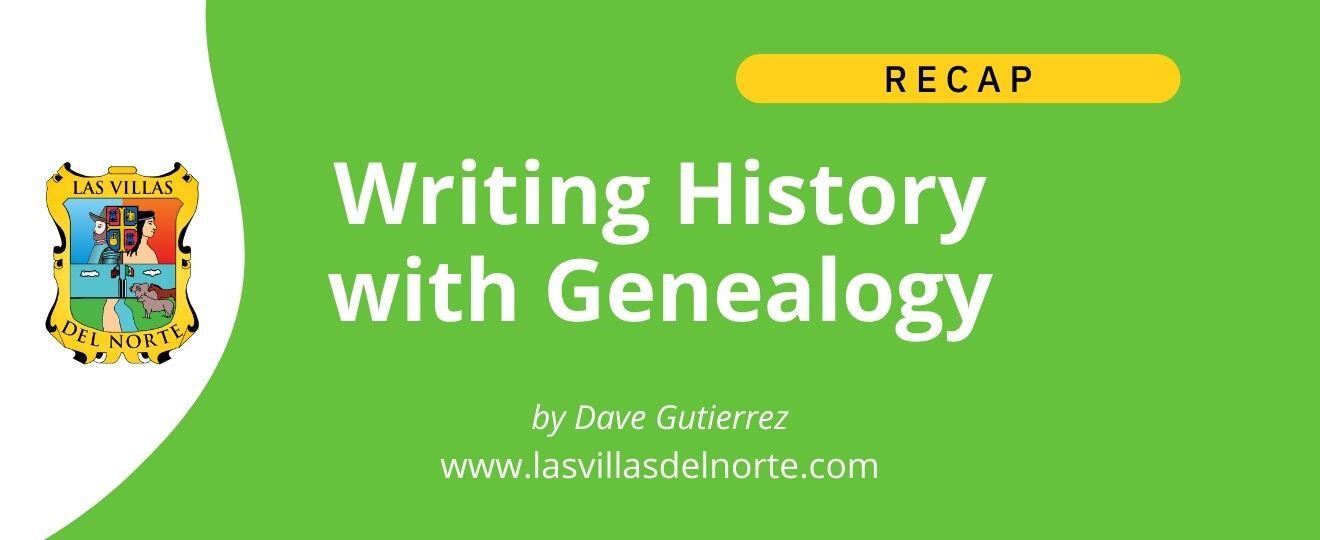 Here is a short recap of the presentation "Writing History with Genealogy" and what you can expect from it. In this presentation, author Dave Gutierrez details the role Genealogy played in writing the book Patriots From the Barrio. The book is the true story of the only all Mexican American US Army unit in WWII. CBS TV Studios and Hollywood Actor Wilmer Valderrama have obtained the film rights to the book.
This presentation is already for viewing here: Writing History with Genealogy
This presentation will provide you with an example of how genealogy was used to write a historical book. You can apply the same to your own family history.
Now let's talk about this presentation. Below is the outline of the video and what you can expect to learn.
Here is the Outline of the Video and What to Expect
Intro Dialogue (0:10) - Dave Gutierrez introduces himself and we learn a bit about his background.
Ramon G. Gutierrez (2:22) - In this section Mr. Gutierrez talks about how he got started in genealogy. He also talks of how he became interested in researching the life of Ramon Gutierrez a second world war service man.
Researching the Men of Company E (6:41) - In this section we learn about many of the men that served in Company E and ho he used genealogy research to find living relatives for them.
Military Research at Archvies.gov (21:27) - Here you will learn of how this website was vital in researching and finding war stories about the members of Company E.
Military Research at Fold3 (32:31) - Here you will find how Faold3 is great for anyone researching veterans in their families. You will also be provided with other resources to help you out.
Texas Military Forces Museum (36:14) - Another great resource that helped Mr. Gutierrez in his research was this museum. You will also get to see samples of records found.
Possible Movie and Author Information (39:21) - In this final section we learn that Dave's book will be made into a movie.
End Commentary (44:04) - Finally, you will be encouraged to write your own stories and publish them.
This presentation is over 50 minutes and highly recommend it for anyone with roots in New Mexico.
Watch This Presentation Now
If you are a member of Las Villas del Norte just click on the button below to be taken to the page where you can watch the presentation.
Not a Member Yet?
Join Las Villas del Norte today and you can watch this presentation online today, plus many more. You will also get our eBook "Las Villas del Norte, The 1757 Censuses of Laredo, Dolores, Revilla, Mier, Camargo, and Reynosa", plus the e-versions of our Journals, including a ton of other great resources to help you in your genealogy.
Any questions, concerns, or suggestions please let us know below in the comment area of this post. Don't forget to join our mailing list using the box to your right hand side