Presentation "Writing History With Genealogy"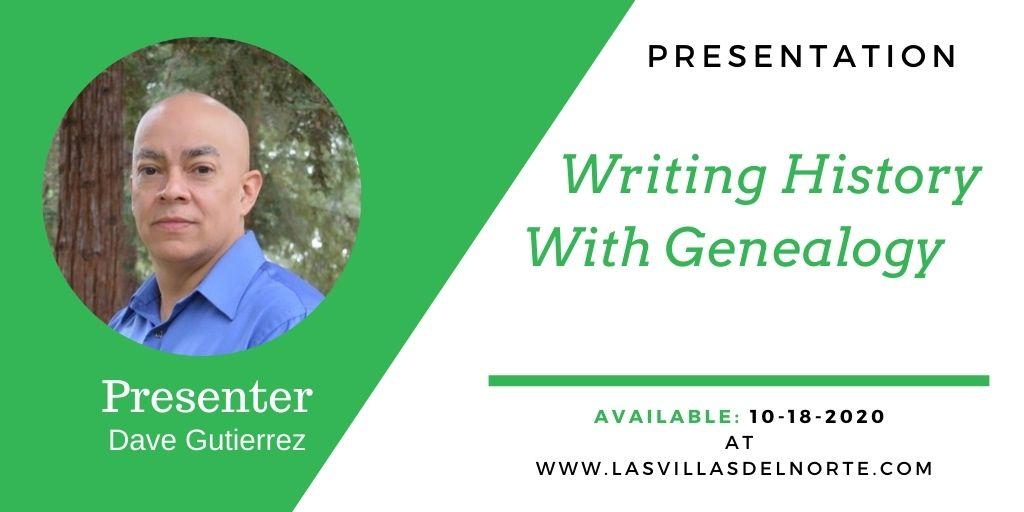 We are happy to announce that we have recorded a presentation by Dave Gutierrez "Writing History With Genealogy". This presentation will be posted on Las Villas del Norte on Sunday October 18, 2020.
More About Dave Gutierrez
Dave Gutierrez is the author of the book Patriots from the Barrio. He is the President of the Nuevo Mundo Historical and Genealogical Society in the San Francisco Bay Area. He has presented at the Texas State Hispanic Genealogical and Historical Conference and scheduled to present at the National WWII Museum. He is also a member of Las Villas del Norte Genealogy Group.
Presentation Information
Title: Writing History with Genealogy
Summary: Author Dave Gutierrez details the role Genealogy played in writing the book Patriots From the Barrio. The book is the true story of the only all Mexican American US Army unit in WWII. CBS TV Studios and Hollywood Actor Wilmer Valderrama have obtained the film rights to the book.
How to Watch This Presentation
If you are a member of Las Villas del Norte just log in to our website on October 18, 2020 or after to watch it, it is that simple.
Not a Member Yet?
Don't worry, join Las Villas del Norte today and you can watch this presentation online on or after October 18, 2020. You will also get our eBook "Las Villas del Norte, The 1757 Censuses of Laredo, Dolores, Revilla, Mier, Camargo, and Reynosa", the e-version of our current Journal, plus a ton of other great resources to help you in your genealogy.