Presentation: Overcoming Language Barriers in Genealogical Research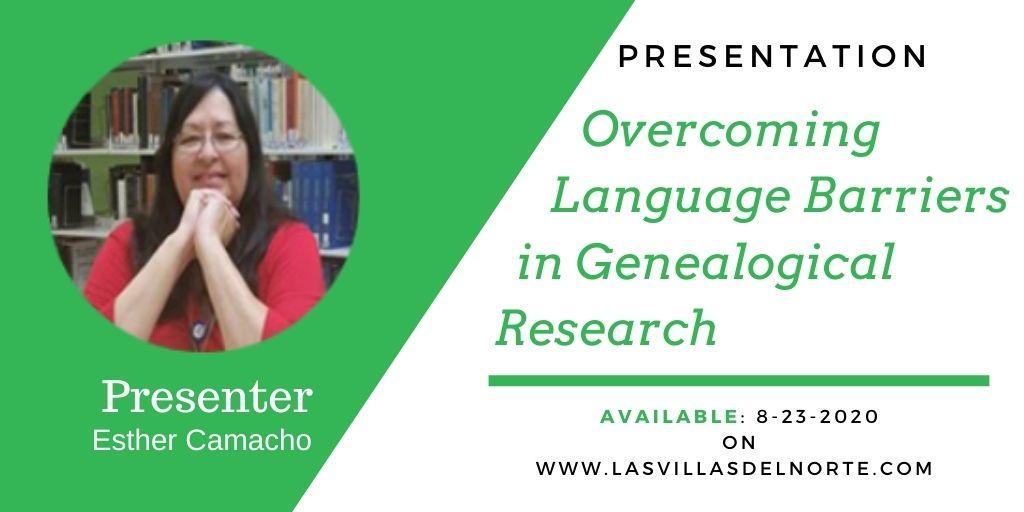 We are happy to announce that we have recorded a presentation by Esther Camacho titled "Overcoming Language Barriers in Genealogical Research". This presentation will be posted on Las Villas del Norte on Sunday August 23, 2020.
More About Esther Camacho
Esther Camacho is a south Texas librarian, genealogist, and historical researcher. She has done historical and genealogical presentations to various organizations, genealogical groups, and state conferences. She is an active member of the Hidalgo County Historical Commission. Her primary focus is genealogy, local history, and cemetery research.
Presentation Information
Title: Overcoming Language Barriers in Genealogical Research
Summary: Struggling with Hispanic genealogical research? Learn the keys to naming structure, record patterns, reading dates and basic vocabulary without having to be proficient in the language.
How to Watch This Presentation
If you are a member of Las Villas del Norte just log in to our website on August 23, 2020 or after to watch it, it is that simple.
Not a Member Yet?
Don't worry, join Las Villas del Norte today and you can watch this presentation online on or after August 23, 2020. You will also get our eBook "Las Villas del Norte, The 1757 Censuses of Laredo, Dolores, Revilla, Mier, Camargo, and Reynosa", the e-version of our current Journal, plus a ton of other great resources to help you in your genealogy.