Presentation: Soy de Duval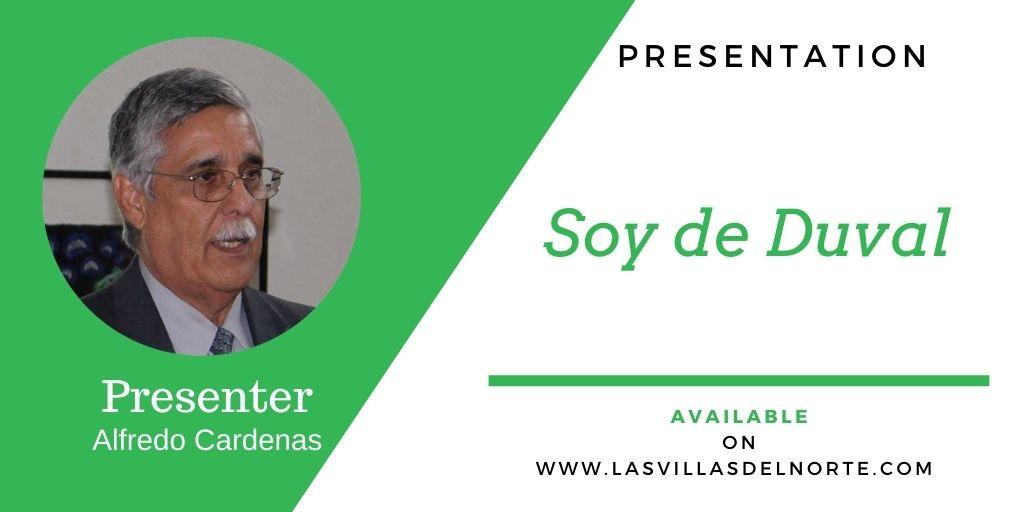 The blog, Soy de Duval, is mostly a historical account of nineteenth century Duval County. Alfredo tells the story of Duval County from geologic times to about 1900. Occasionally he will have blogs past 1900 and from current happenings in Duval County, but only as they relate to history.
While this is not a genealogy blog it is a gold mine for genealogists with much information of land grants in Duval County, as well as names from business, government, law enforcement, lawlessness, faith, oil, cattle, farming, etc. Genealogists that regularly read the blog will find many nuggets. Of course, this is mostly of interest to folks who are from Duval County or who trace their ancestry to Duval County.
The presentation will be at the Speer Memorial Library located at 801 E. 12th St. in Mission Texas. There is no cost to attend and it is open to the public.
Here is our program:
2:00 PM - Greet and Meet - Talk About Genealogy
2:15 PM - Presentation "Soy de Duval" - Alfredo Cardenas
3:10 PM - Open Registration if Anyone wants to become a member of Las Villas del Norte
3:20 PM - Networking time to meet each other and talk about research.
About the Author
Alfredo Cardenas was born, raised, and educated in San Diego, Texas. He received a Bachelor of Arts in Political Science from St. Mary's University in San Antonio, which he put into practice in a number of positions in government and with social service agencies, as well as with political campaigns.
He served as director of community and economic development for Duval County before founding and publishing the Duval County Picture, a weekly newspaper from 1987-1999. He served as Mayor of the Duval County seat of San Diego for two terms, from 1992-1999.
In March 2015 he published his first book, Balo's War, A Novel About the Plan of San Diego.
He has also written book reviews for the Southwestern Historical Quarterly, the Journal of South Texas,and Catholic Southwest, A Journal of History and Culture. He has written history articles for the Journal of South Texas and The Handbook of Texas Online, as well a columns for various Texas newspapers on history and current affairs.
We hope to see you there and will be glad if you can make it.
You Can't Make it to this Presentation?
Don't worry, join Las Villas del Norte today and you can watch this presentation online two days after it is recorded. You will also get our eBook "Las Villas del Norte, The 1757 Censuses of Laredo, Dolores, Revilla, Mier, Camargo, and Reynosa", the e-version of our current Journal, plus a ton of other great resources to help you in your genealogy.
Any questions, concerns, or suggestions please let us know bellow in the comment area of this post. Don't forget to join our mailing list using the box to your right hand side to get a recap of the presentation along with any important resources mentioned by our guest.