Presentation "Your First Five Generation Family Tree"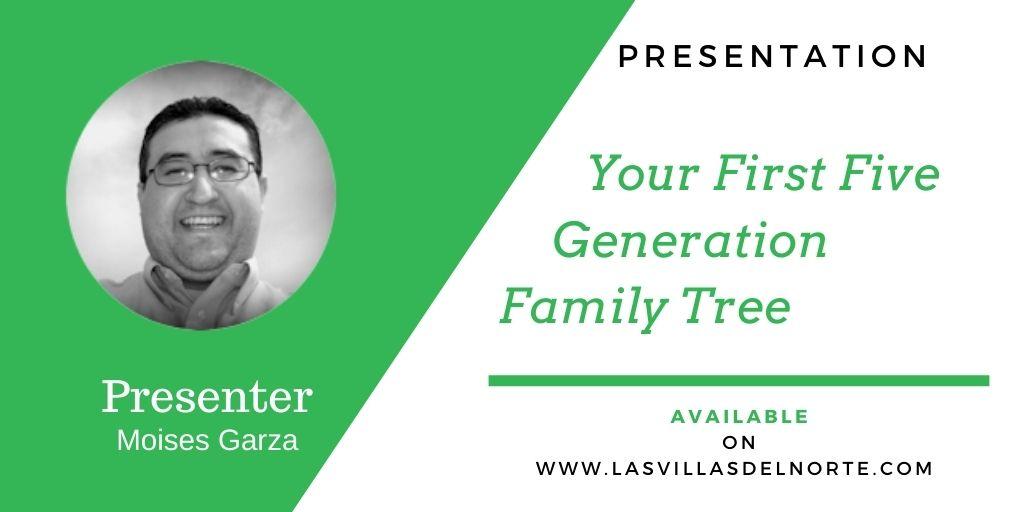 Our speaker will be none other than our own member Moises Garza. He will talk about getting started with Genealogy and focus on helping you with your first five generation family tree. He will also provide questions and answers on how to further go back to researching your ancestors.
You are invited to attend our May 10th meeting, it is open to the public free of charge. So if you or anyone you know is interested in family history and genealogy we highly want to encourage you all to attend.
This will be the third meeting held by the Las Villas del Norte Genealogy Group.
Here is our program:
2:00 PM - Greet and Meet - Get a name tag and get to know other attendees
2:30 PM - Getting Started With Your Genealogy, "Your First Five Generation Family Tree". - by Moises Garza
3:00 PM - Workshop "Your First Five Generation Family Tree".
3:30 PM - Open Registration if Anyone wants to become a member of Las Villas del Norte
We hope to see you there and will be glad if you can make it.
Can't Make it To This Presentation?
Don't worry, join Las Villas del Norte today and you can watch this presentation online today. You will also get our eBook "Las Villas del Norte, The 1757 Censuses of Laredo, Dolores, Revilla, Mier, Camargo, and Reynosa", plus the e-version of our Journals, including a ton of other great resources to help you in your genealogy.
Any questions concerns or suggestions please let us know below in the comment area of this post.